The Orange Suit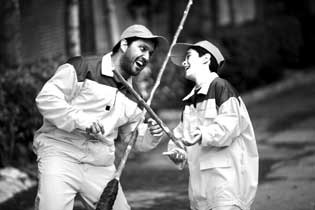 Veteran filmmaker, Dariush Mehrjui started to film his latest movie in October 2011 while his previous movie Beloved Sky has not been screened yet. The story of The Orange Suit is about a photographer who tries to purify his soul by keeping clean the city in which he lives. The color orange in the title of this film alludes to the color of the city cleaners' outfit.
Mehrjui has written the screenplay of this film in collaboration with his wife Vahideh Mohammadifar who has also worked on the screenplays of Mehrjui's other recent films. The main character is played by Hamed Behdad in his first experience of working with Mehrjui. The leading actress is Leila Hatami who rose to fame with Mehrjui's Leila (1997) and also played in Mehrjui's previous film, Beloved Sky. Most parts of this movie are filmed outdoors. Thanks to Mehrjui's popularity, the press followed every detail about his latest film from the very beginning of the pre-production stage.
Other people involved in making this film include director of photography Farrokh Majidi, sound recordist Nezamoddin Kiani, makeup Farivar Moayyeri, production manager Mehdi Badrlou, and editor, Hayedeh Safiyari. The cast includes Hamed Behdad, Leila Hatami, Homayoun Ershadi, Tannaz Tabatabaei, Mitra Hajjar, Ferdows Kaviani, Ardeshir Rostami and Omid Rohani.